<!-####****---- MAIN BODY OF DOCUMENT BELOW THIS LINE ----****####->
How to Make Money? Nothing is More Valuable than Word-of-Mouth Referrals
So... you're probably wondering what a photo of yours-truly and a firetruck have to do with making money through word-of-mouth referrals. Here's the story.
During the last 25+ years in the business I've developed a sort of system. I began running a lot of classified ads, checking free listings here and there in the freebie newspapers, going from business to business... I finally found that doing a great job - doing more than is expected - has more rewards than anything else. And, besides the money, it just feels good. Here's an example.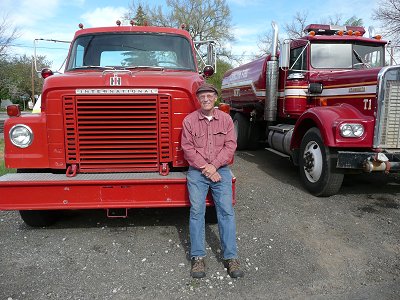 Awhile back I tore down an old house. The guy needed it done in two months and I did it in one month. He also said that he'd burn all the stuff I didn't want or haul it to the dumps. I took care of it all. This fellow was most pleased. A couple of months later, he drove up to my place and said, "you gotta get out to this estate sale." So, I went out to it and found it was over, but the people had tons and tons of stuff that did not sell and they had to have it all out of there in 3 days.
It was an amazing collection of used lumber, firewood, hand tools, power tools, lumber rack... so much stuff - all for the taking and all, of course, free (I only deal in free stuff). I worked 18 hours a day, took out 14 loads with my Nissan pickup and 10 foot trailer and got it all in TWO days. They were most appreciative and word got around.
There have been dozens of deals that are directly connected to the goodwill I have created doing things this way. One day, several loads of old computers, another day, buckets of old brass plumbing. Most recently, one of my earlier "clients" told me to check out a firetruck at a nearby town. Turns out that the fire department got a new truck a littlw while ago and hadn't yet decided what to do with their old 1,000 gallon pumper truck. So, I showed up and took a look. It was a beauty. It had been regularly serviced, new tires, new batteries, a rebuild a couple of years earlier. So, I broke my rule and offered $1,000 for it because it was just what I needed for fire protection around my place. They took the offer and I got the truck. And fun, fun - I registered it as an "historical vehicle" so, though I can't just drive it anywhere, I can drive it in our town parade this summer!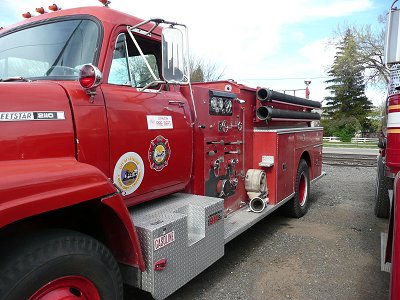 Point of all of this is that doing a great job and making sure you tell people to tell their friends really pays off. I'm in a small town of 600. The nearest other towns are about 25 miles away and they're about the same size. I only came to the area 2 years ago yet I get more business, more free stuff "thrown" at me than I can handle (but somehow I do). Everyone knows me in town as the salvage guy.
Do the best job you can, do more than they expect, ask for referrals and you will do well. It works for me.
Click here to learn how you can make the money that you need and want in this home-based business.
<-- Recycling Secrets
<-- Home Based Salvage & Recycling Business
---
| | |
| --- | --- |
| | Michael Meuser bootstrapped his way into the salvage and recycling business in the early 1980s. He began with building deconstruction and scrap metals and then moved into electronics, computer and telecommunications scrap where he learned to recover gold and other precious metal. |
Follow us on Facebook
News & Updates
Find What You Are Looking For
Recycling Secrets Blog for updates, ideas & answers.
Recent Blog Posts
Latest Scrap Metal, Electronic and Computer Market Prices
Chinese Scrap Metal Prices
North American Scrap Metal Prices
#1 Copper Scrap Price
#2 Copper Scrap Price
#1 Bare Bright Copper Scrap Price
#1 Insulated Copper Wire Scrap Price
#2 Insulated Copper Wire Scrap Price
9ct Gold Scrap Price
14ct Gold Scrap Price
18ct Gold Scrap Price
22ct Gold Scrap Price
Aluminum Cans Price