<!-####****---- MAIN BODY OF DOCUMENT BELOW THIS LINE ----****####->
How I Get Great Value for Collectibles in a Terrible Economy
The economy is terrible! No doubt about it. Collectibles that once sold like hotcakes don't sell at all. No one seems to be buying anything. All this is true, but there's a way around it to get high value for your collectibles even in this terrible economy.
About two years ago I moved within 10 miles of one of the best sailing lakes in North America. I sailed a lot when I was younger and I've been keeping my eye out for a small sailboat for the lake.
I happened to check Craigslist and saw an ad for a Venture 22 sailboat. It was quite a bit more boat than I was thinking of, but since the ad said "best offer or trade" I thought I'd give a call. I called and asked the guy what he had in mind. He said he had to get rid of the boat right away and didn't have much room and was really into collectibles.
Over decades in the salvage business I've collected a large amount of collectibles. I asked for specifics and he said he was really into old bottles. I told him that years ago I owned a victorian in the Mother Lode and when I did foundation work I found a bunch of old pickle bottles left behind under the house when it was built in the 1870s. In a good market the bottles are worth around $400 apiece but right now - no one is buying. He was more than happy to take the bottles.
My wife and I piled in our truck and took the 3 hour drive to Lake Tahoe to pick it up and were thrilled when we saw it. Great shape, all sorts of extras, 2 sets of sails, nice trailer. Such a deal. Here's a photo.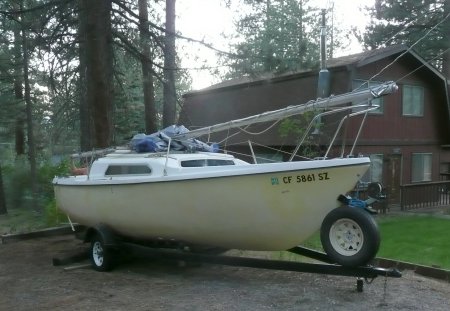 She's a beauty!
Here's the kicker. I checked the Craigslist sailboat listings the other day and there was an ad offering to trade $1,500 to $3,000 worth of guns for a boat like the one we just got. I don't want any guns, but amazing how, with a little luck, and keeping your eyes open, you can increase the value of your deals.
Click here to learn how you can make the money that you need and want in this home-based business.
<-- Recycling Secrets
<-- Home Based Salvage & Recycling Business
---
| | |
| --- | --- |
| | Michael Meuser bootstrapped his way into the salvage and recycling business in the early 1980s. He began with building deconstruction and scrap metals and then moved into electronics, computer and telecommunications scrap where he learned to recover gold and other precious metal. |
Follow us on Facebook
News & Updates
Find What You Are Looking For
Recycling Secrets Blog for updates, ideas & answers.
Recent Blog Posts
Latest Scrap Metal, Electronic and Computer Market Prices
Chinese Scrap Metal Prices
North American Scrap Metal Prices
#1 Copper Scrap Price
#2 Copper Scrap Price
#1 Bare Bright Copper Scrap Price
#1 Insulated Copper Wire Scrap Price
#2 Insulated Copper Wire Scrap Price
9ct Gold Scrap Price
14ct Gold Scrap Price
18ct Gold Scrap Price
22ct Gold Scrap Price
Aluminum Cans Price