Make Money with a Home-Based Junk Hauling Business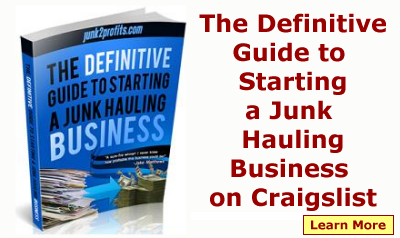 Why start a junk hauling business on Craigslist?
1. The money. Junk hauling pays WELL. Up to $80 an hour. And most of the time...it's CASH.
2. It is possibly the least expensive business of all to start up. You don't even need a truck...just rent one!
3. Work part time from home. No need for a shop or office, or set hours. Haul on weekends. Haul in the evenings after your job. If you're looking for an easy-to-start business with flexible hours, this is the one.
4. Demand for the service. American homes are overflowing with junk. Many people don't have a truck and don't have time to haul away their junk. The service has become so popular that some national companies have annual sales exceeding $200 million. It's a great time to start a junk removal business.
5. No advertising cost. Since the decline of yellow pages advertising, Craigslist has become the #1 source for junk hauling customers. It's free, so you have the same access to customers as the big, expensive companies like 1-800-Got-Junk. And because you will charge much less than what the big companies charge, you will be BUSY.
6. Treasure hunting. You would be shocked at what some people throw away! Working electronics, collectibles, sporting goods, etc. Clean that stuff up and sell it on Craigslist for pure extra profit.


Mike Meuser